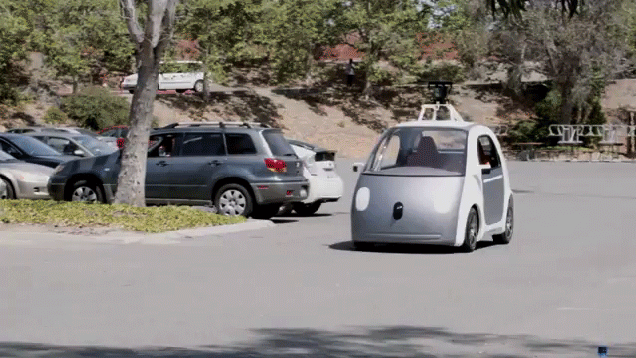 Google started the development of self-driving cars in 2010 and released a string of videos about it in 2012 on its own YouTube channel. That created a unprecedented stir in the automotive world. Never before was a company outside the business able to create a collective awareness in the industry that we are on verge of a new technological era. Building cars became digital tech. Almost all big car manufacturers immediately stepped on the bandwagon initiated by Google and announced some sort of autonomous car technology for the coming years. Volvo for instance announced that it will launch an auto park system in its upcoming XC90. A completely new car of which a video of the interior coincidently was released yesterday. Nissan proclaimed that it aims for a fully automated car by 2020, Tesla said it will offer 90% autopilot cars by 2016, Daimler showed a self-driving Mercedes S-class during IAA Motor Show last fall. Swiss creative workshop Rinspeed adapted a Tesla Model S into a self-driving car, created a video and put the concept car in their booth on the Geneva Motor Show this spring. What these and all other self-driving car concepts have in common is that they are normal road production cars to which computers, lasers and radars are added to make them self-driving.
The first cars in Google's self-driving fleet were also based on normal production cars. We have seen amongst others Toyota Prius and Lexus hybrids which were converted into Google cars.Yesterday Google issued a press release which marks the next chapter in self-driving cars. Its latest autonomous car is a bulbous two-seater, with no steering wheel, gas or brake. It was designed from the ground-up as a autonomous vehicle and it is a basic transportation mean that simply gets you from A to B without interaction with any controls. Google plans to build about 100 prototypes of this car and use them for testing purposes this summer.
Jalopnik's Damon Lavrinc immediately made the connection between this and another Google project. He writes: "Will it go on sale? No. Could it be integrated with Uber, which Google owns a stake in? Absolutely."
What do you think? Does the 2.0 not only apply to the version of this Google car, but is it also two to nil in the race between Google and the car industry?